« To blog or not to blog | Accueil | L'impasse du non alignement »
21 avril 2006
Un château dans le lointain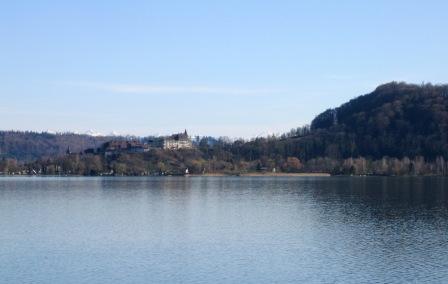 Pas besoin d'aller en Norvège pour apercevoir des paysages magnifiques : cette vue du château d'Erlach depuis La Neuveville, de l'autre côté du lac de Bienne, vendredi dernier, à l'orée d'un week-end des plus agréables, était un spectacle ravissant.
Publié par Ludovic Monnerat le 21 avril 2006 à 16:25
Commentaires
N'y aurait-il pas au fond de ce lac le sonar perdu par la Royale ? (cf l'article d'armee.com sur la bande de gauche de ce site)
Je plaisante bien sûr, mais perdre ce genre de matériel de cette manière pourrait faire penser à un scénario de James Bond où le méchant irait récupérer le sonar sous-l'eau, ni vu, ni connu, grâce à un sous-marin du type Nautile.
Ensuite, le sonar serait vendu à une grande puissance soucieuse de détecter les sous-marins nucléaires lanceurs d'engins, dans le but de pouvoir, par exemple, elle même envoyer des bombes nucléaires sur ses voisins sans craindre de représailles maritimes.
Heureusement, James Bond est là pour faire capoter l'affaire...
Publié par Juan Rico le 21 avril 2006 à 21:00
Petit pense-bête pour remettre les pendules à l'heure de la réalité, pour ceux qui pensent à l'occidentalité de la Russie :)
First Meeting of the Russia-Islamic World Strategic Vision Group
29-03-2006

The first meeting of the Russia-Islamic World Strategic Vision Group was held on March 27-28 at the International Trade Center in Moscow under the chairmanship of Yevgeni Primakov, President of the Russian Chamber of Commerce and Industry. The Chamber as well as Russia's Ministry of Foreign Affairs had taken part in organizing the Group. Highly placed representatives of Muslim countries, such as Bangladesh, Egypt, Indonesia, Pakistan, Saudi Arabia, Turkey, Tajikistan, Uzbekistan and a number of others attended the meeting.
President of the Russian Federation Vladimir Putin addressed greetings to the meeting participants.
The members of the Group were received by Russian Minister of Foreign Affairs Sergey Lavrov and Secretary of the Security Council of Russia Igor Ivanov. OIC Secretary General Ekmeleddin Ihsanoglu sent a message of greetings to the Group.
On the Russian side, President of the Republic of Tatarstan Mintimer Shaimiyev, President of the Chechen Republic Alu Alkhanov, Russia's representative in the High-Level Group for the Alliance of Civilizations Professor Vitaly Naumkin, Deputy Chairman of the Russian State Duma Budget and Taxes Committee R. S. Gabdulin, and Ambassador at Large of the Russian Ministry of Foreign Affairs Veniamin Popov spoke at the meeting.
http://diplomacymonitor.com/stu/dm.nsf/dn/dn081A8487BCC65C63852571400070CB39
Publié par Mikhael le 22 avril 2006 à 18:06
Russia is flatly opposed to the use of force to thwart Iran's nuclear ambitions
April 22, 2006, 12:03 AM (GMT+02:00)
This statement came from the foreign ministry in Moscow to Interfax news agency Friday. "No military measures can resolve the non-proliferation problems of Iran," he said.
Wednesday, US secretary of state Condoleeza Rice said: The US reserves the right to use any and all options to prevent Iran from developing nuclear weapons. She spoke at the Chicago Council on Foreign Relations.
Publié par Mikhael le 23 avril 2006 à 8:01